COVID-19 tips
We know everyone is pretty confused right now and that the news is grimmer than usual. We're here to offer any help we can. Read our health tips to help you and your loved ones deal with the COVID-19 crisis as best as possible.
Frequently asked questions:
Our usual joining process applies. If you join after 31 March 2020 and you don't already have cover with another fund, a 2 month waiting period applies for coronavirus and there are a range of other waiting periods up to 12 months.
No, health funds aren't allowed to cover you overseas, so this is a question for your travel insurer. As long as you maintain your health cover, we'll be here when you get back.
It's important to know the situation is changing quickly and that the rules and arrangements for travel insurance might have changed recently. We strongly recommend you review government advice and talk with your travel insurer during this time.
Tip 1. Be kind to each other
We're all in this together, we might as well take care of each other. That's the most important thing at the moment.
This is mainly a health crisis, but the impacts will touch more than just our toilet tickets and our isolation. A bit of kindness and community spirit will go a long way to making sure we reduce the harm that comes from Coronavirus.
Like hands-on kindness? Meals on Wheels NSW is after volunteers. We're sure they'd appreciate your support if you're able to help in any way.
Tip 2. Read reliable health information ↓
Healthdirect.gov.au has you sorted.
Follow the links to the latest COVID-19 information.
IMPORTANT: If you have severe difficulty breathing, call triple zero (000) immediately.
Tip 3. Don't put your mental health on hold
Isolation is only intended to tackle Coronavirus. If anything, we need people struggling with mental health to be more connected than ever to friends and support services.
If you take medication already, don't let Coronavirus interfere. Chemists are still open and if you're out of scripts, call your doctor (doctors should be pretty accommodating under these circumstances).
Otherwise, telephone mental health services are fantastic. Here are some quality options: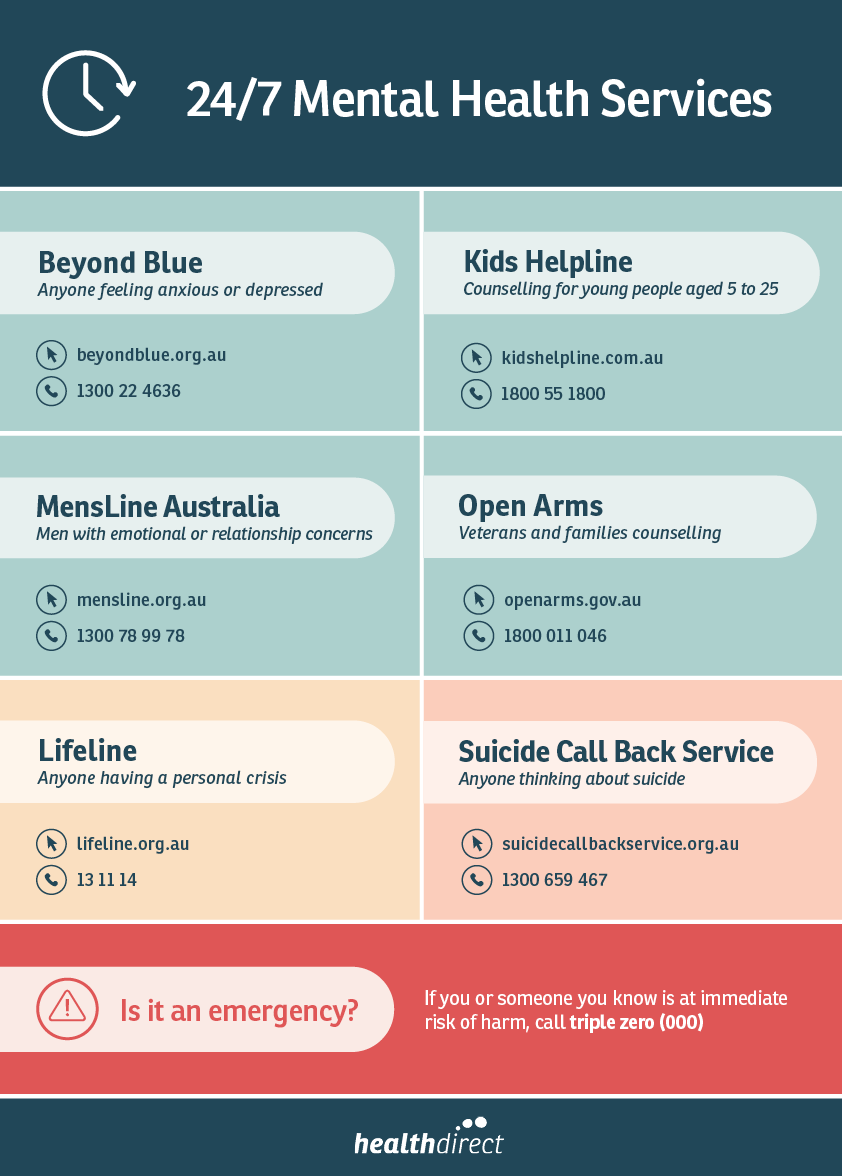 Tip 4. Use home workout apps
Missing your personal trainer? Picking up too much couch time? Need a distraction? Need exercise?
Whatever your reasons, your mental health still needs the many benefits of exercise. Our staff are pretty keen on using apps to guide workouts (we value expertise and motivation). Here are some suggestions for you.
Nike Training Club: with 105 free no equipment workouts a 4-week bodyweight fitness plan and plenty more besides, what else do you need?
Daily Workouts Fitness Trainer: another similar option to the Nike app is available on Google Play and the App Store. It's free and does similar things to the Nike app, just with less fancy graphics. Choose this if you don't like Nike or don't want celebrities and professional athletes dropping commentary on how much they LOVE this workout.
Daily Yoga: yoga lovers, there's only one app you need. A swish, guided yoga app that comes in an ad-cluttered free version or a paid version. Worth a try on Google Play and the App Store.
Tip 5. Leave the vitamins on the shelves*
Unless you are taking folate supplements for pregnancy or have special health needs, vitamins aren't going to help.
Health Direct is advising that most healthy people on a good diet don't need vitamin supplements. Content doing the rounds on social media claiming that big doses of vitamins treat the symptoms of Coronavirus are false. Vitamin A and vitamin D can be toxic if you take too much, so there's another reason to leave vitamins in stores and use the money for food and other essentials.
* This guidance comes from the Australian Government. Please follow the advice of your own doctor who will know your medical needs.
Tip 6. Video call your friends and family
We are social animals and we need contact with our loved ones. Get in touch and make a friend or rello smile every day with a video call. WhatsApp is a solid option, but feel free to use a video call service of your own choice.
Tip 7. Master working from home
Peoplecare started early work from home trials as the Coronavirus crisis began to unfold. Here's what we learned:
Pick a fixed start and end time for your workdays. Keep to your routine as much as possible. Switching off is more important to your energy levels than staying switched on.
Prepare nutritious meals. A good diet is essential to your health. Use your home time wisely by making your own meals and you might even feel healthier than normal.
Exercise and stretch. Your kitchen chair was never designed for a full day's slog. If our backs are going to survive working from home, we need to meet them halfway.
Check in with your colleagues. Daily video calls keep the smiles and connectedness going.
Tip 8. We're still around to help
If you have any questions about your health cover or are having trouble making payments, you can call us on 1800 808 690 and we're happy to chat about your options.