The link between gender inequality and domestic violence
Awareness of domestic violence in Australia is at an all-time high. The media continues to report a new despicable murder by a current or former partner each week.i It's high time we moved past awareness and into some solutions for this brutal problem
One key fact to start: gender inequality endangers women.ii
What?
That's right. Some pretty smart researchers compared countries level of gender equality with levels of domestic violence. The result? Countries with the highest gender equality scores have the lowest levels of domestic violence.iiiiv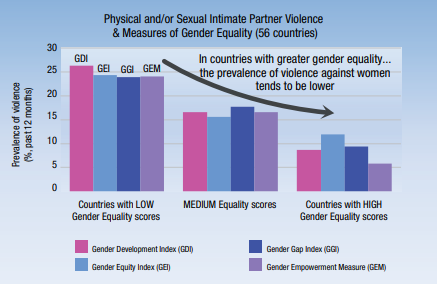 v
What are the other factors?
According to White Ribbon Australia, other root causes of violence against women include:
beliefs and behaviours reflecting disrespect for women
adherence to rigid or stereotypical gender roles, relations and identities
What do we do about it?
Friday the 20th November is White Ribbon Day. There's never been a better time to take action.
Let's do our bit to be vocal about equality and upskill to become advocates. Equality is important because the more people who believe that men and women are equal, the safer women will be.
Quick steps to upskill: What men can do
Can abusers be rehabilitated?
Yes, they can. That's the surprising result of two key studies.
A 2015 UK study found that the "vast majority of men who abuse their partners stop their physical and sexual violence if they attend a domestic violence perpetrator programme."
It can be done here too, with a 2-year Australian study replicating strong results including:
a sharp reduction in the nature and severity of violence over the duration of the programs [...] Most of the men become violence free or almost violence free two years after their program.
Counselling services for men about family violence:
Men's behaviour change programs:

Challenge accepted
Peoplecare is in the finishing stages of our White Ribbon accreditation program.
One of the things to measure in the program is how well staff understand what constitutes domestic violence against women. Plus, our managers will get that all important professional training on what to do if a staff member reports domestic violence.
Progress is the key. And that's what the White Ribbon program is about. Think your organisation could get involved too? Here's where to register your workplace.

Domestic violence help
If you, a child, or another person is in immediate danger, call 000.
For sexual assault, domestic and family violence counselling service call 1800 RESPECT 1800 737 732 for 24/7 phone and online services.
References:
iBryant, W. & Bricknall, S. (2017). Homicide in Australia 2012-2014: National Homicide Monitoring Program report. Canberra: Australian Institute of Criminology. Retrieved from aic.gov.au/publications/sr/sr002
iiwhiteribbon.org.au/Primary-Preventatives/Understanding-The-Cause
iiiHeise, L. and Kotsadam, A. (2015) Cross-national and multi-level correlates of partner violence: An analysis of data from population-based surveys, Lancet Global Health, 3, pp. 332–340
ivUnited Nations Women (2011) In pursuit of justice. Progress of the world's women, unwomen.org/~/media/headquarters/attachments/sections/ library/publications/2011/progressoftheworldswomen-2011-en.pdf
vendvawnow.org/uploads/browser/files/genderequality_vaw_leaflet_en_web.pdf