Our hospital covers
We love keeping our hospital cover simple with five types of private hospital cover to best suit your needs.
All our covers come with an exceptional level of ambulance cover.
Ambulance cover included
One thing that Peoplecare includes as a bonus is 100% land, air and sea ambulance cover with no annual limits with every Peoplecare cover.* A short trip in an ambulance can be eye-wateringly pricey. To view what you get, read here.
*State-recognised ambulance providers only.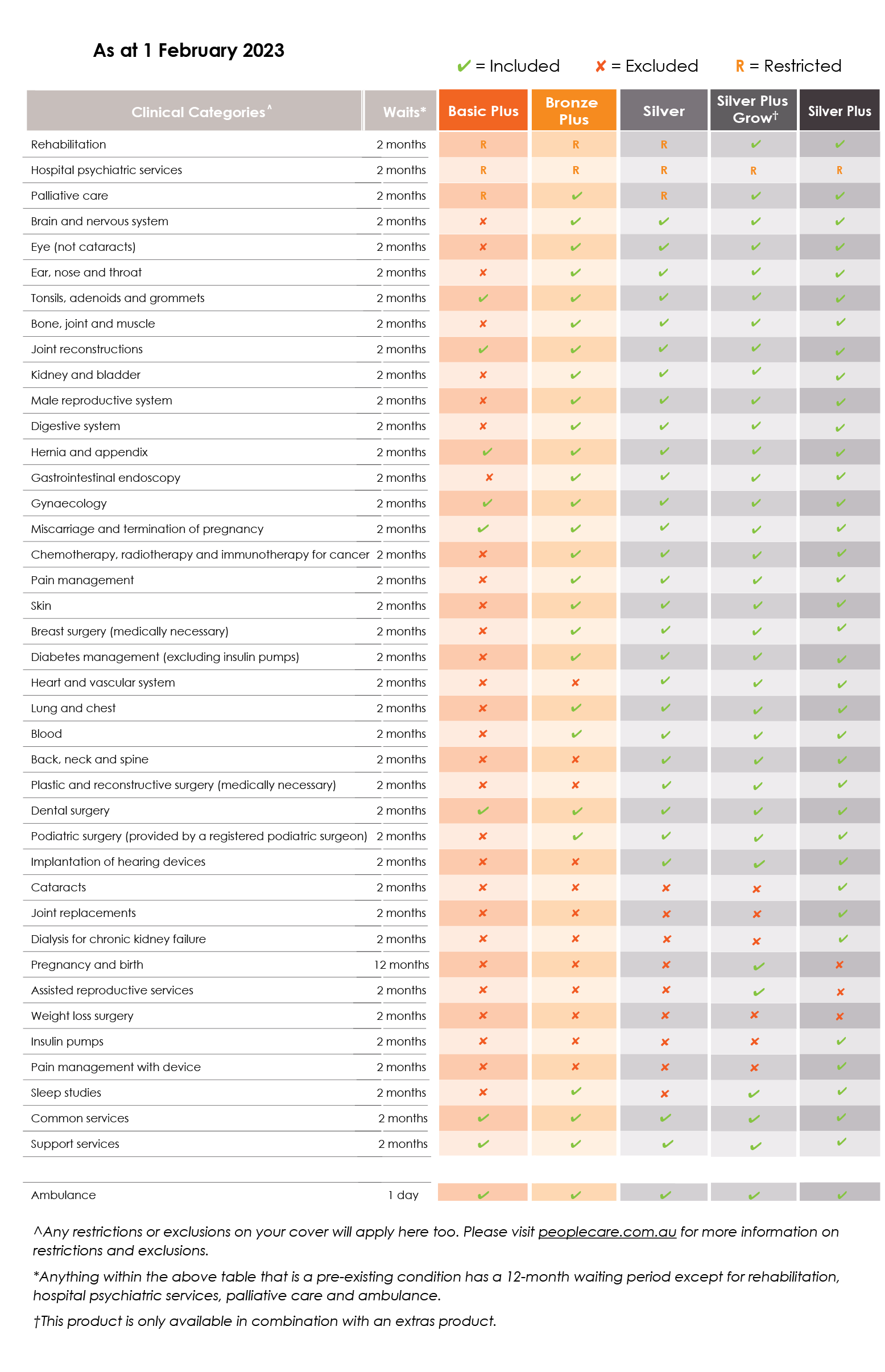 How does hospital cover work?
Holding hospital cover allows you to go to hospital as a private patient for the services you are covered for.
All our hospital covers help you:
Avoid Lifetime Health Cover loading
Score a government rebate to reduce your premiums (see the income tiers for eligibility)
Suit your budget and needs
Choose your own doctor
Avoid paying Medicare Levy Surcharge
Access Australia-wide coverage at more than 540 hospitals with 37,000 medical specialists
Expenses hospital cover can pay
Hospital accommodation (100% if the treatment is included on your cover)
Theatre fees (100% if the treatment is included on your cover)
In-hospital medicine (100% if the treatment is included on your cover)
Doctor's fees. Peoplecare pays a minimum of 25% on each Medicare Benefit Schedule fee if the treatment is included on your cover (we kick in more if your doctor uses our Access Gap scheme) and Medicare pays 75%. Learn more about Access Gap.
You might be surprised...
...by just how much a hospital stay can cost without hospital cover.
You'd be surprised how much it costs to pay for a private hospital procedure without private hospital cover. According to government statistics, only 7% of private hospital procedures were self-funded in 2017-18.*
To give you an idea, here are just some of the hospital bills we've paid for our members in early 2018:
$42,000 for a 40-year-old to treat lower back pain
$47,000 for a 65-year-old's wound infection
$171,000 for a premature baby in an intensive care unit
$23,000 for a 22-year-old who was treated for post-traumatic stress disorder
$37,000 for a 64-year-old's knee replacement
$38,000 for an 80-year-old's hip replacement
Again, it's completely up to you, but you might want to plant that money tree just in case.
* Admitted Patient Care 2017-18: Australian Hospital Statistics, Australian Institute of Health and Welfare
Are you under 30?
Take out our Basic Plus Hospital or Bronze Hospital cover before you turn 30 to lock in the age-based discount. The discount ranges from 2% to 10%, depending on your age.
Two important things before you dive in — these apply to all health funds
Waiting periods (including those for pre-existing conditions), excesses, restrictions & exclusions might apply. Read more
Going to public hospital as a private patient? Public hospital waiting lists apply, so check with your doctor and the hospital.
Coming to us from another health fund? Switching is easy
Switching is simpler than you think! It takes around five minutes and you can switch online or over the phone.
Don't worry, if you're transferring from another health fund we'll make sure we recognise any waiting periods you've already served if you switch within 30 days!
To switch, just join Peoplecare and we can cancel your existing cover for you! You won't spend any time without cover that way. We send them a request for details of your cover with them (this is called a Transfer Certificate) and then we'll recognise the waiting periods you've already served.
Sometimes if you've used all of your annual limit with your old fund, you'll have to wait for the new financial year to renew your limits.
Are you new to hospital cover?
There are waiting periods involved and a blanket 12-month waiting period for pre-existing conditions (except for rehabilitation, psychiatric services and palliative care) when you first join to protect the existing membership from hit-and-run claimers – we know that you wouldn't do that, but many people would!